How Much Are The Shipping Costs?
In Long Day's Longboards the shipping in Europe is free *(see exceptions)
Our website calculates the shopping costs when the form with the client information has been fil
2. When will I receive my order?
• In Longboards, Retro-Skate and Mini Longs it takes between 1-14 working days. The time can change depending on the availability. If the product is not in our stock it will be made for the client in an artisanal way.
• T-Shirts, caps, shows and the rest of apparel will be delivered between 1 -2 working days.
When we chaco all the information and everything is correct, we will send a notification to the client.
IMPORTANT: You Will receive the order through the company Nacional Correos and MRW. Make sure you open the parcel in the presence of the messenger to be sure that the order has arrived in perfect conditions.
3. Is It Possible To Have International Shipping? Anywhere In The World?
There is a large List of countries to where we can send our products, Bothe inEurope and the rest of the world.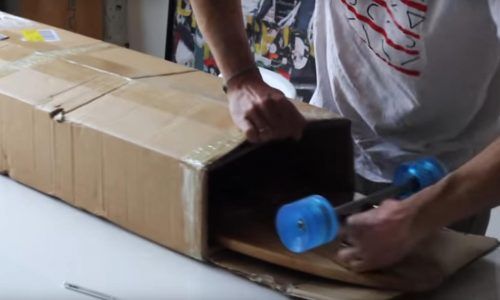 Free Shipping to Spain, Portugal, Germany, Austria, Belgium, Denmark, France, Italy, Luxembourg, Netherlands, Poland, United Kingdom, Czech Republic and Switzerland.
Bulgaria, Estonia, Finland, Germany, Greece, Hungary, Ireland, Latvia, Lithuania, Norway, Romania, Slovakia and Slovenia
Cost of sending "t-shirts, sneakers and accessories" 5 €
Shipping cost "mini skates" € 10
Cost of shipping "longboard, backpacks and retro-skate" € 15
Canada, United States (US)
Cost of sending "t-shirts, sneakers and accessories" 5 €
Shipping cost "backpacks" € 15
Shipping cost "mini skates" € 20
Cost of shipping "longboard and retro-skate" € 25
Costa Rica, El Salvador, Guatemala, Honduras, Mexico, Nicaragua, Panama, Puerto Rico, Dominican Republic, Argentina, Bolivia, Brazil, Chile, Colombia, Ecuador, Paraguay, Peru, Uruguay, Venezuela
Cost of sending "t-shirts, sneakers and accessories" € 15
Shipping cost "backpacks" € 15
Shipping cost "mini skates" € 30
Cost of shipping "longboard and retro-skate" € 35
Rest of the countries
Cost of sending "t-shirts, sneakers and accessories" € 15
Shipping cost "backpacks" € 15
Shipping cost "mini skates" € 35
Cost of shipping "longboard and retro-skate" € 45